AUTHOR
J.P. Michaels was born on March 11 1985. Growing up in a house with five sisters and no brothers, he found himself using his imagination early on as he designed great wars with his action figures, Lincoln logs and army men. After pursuing every creative writing and journalism class from Middle School to High School and into college, he finally graduated in 2010 with a Bachelor's degree in Marketing from Umass Lowell.
​
Since then his professional life focused in the health field, working his way into the Health Fields. During that time he continued working on his creative writing, culminating in the successful creation of an entire new world that has since been named "The Legacy of Jiraiya".
He met the love of his life in late 2014 and they were married in late 2016. Since then she's been both supportive and helpful as she's helped manage his books and get him to the next stage of his life and career.
---
The Legacy of Jiraiya

​"Set in a world of magic and myth, the once prideful and omnificent Jiraiya has been gone for generations. As darkness begins to creep its way back into the world a book of prophecies left behind to a chosen few is only the beginning of the legacy he's left behind to protect future generations."

Read more..

​
Powered by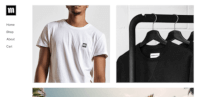 Create your own unique website with customizable templates.